Land Ethic Consulting provides distance and in-person training in real estate analysis and valuation throughout Canada. In recent years we have focused on delivery of continuing education to real estate professionals and others in the industry who need to understand core real estate functions.
The principal of Land Ethic Consulting Ltd., John Peebles, is a Professional Standards instructor for the Appraisal institute of Canada.
APPROACH
Our goal is to develop and deliver customized real estate training for clients. We want to provide clients with effective adult education. This means lively, informative sessions where students are encouraged to actively participate and share their experiences.
The LEC learning approach consists of:
Small group sessions with content tailored to the client's business and real estate focus
Interactive face to face, or distance (webinar) delivery of course materials
Ensuring course material and additional resources are available for student self-study and continuing education
Delivering informal quizzes or tests during each training session to validate the training process
Ensuring that students practice their skills and knowledge through individual or small group case studies and problem solving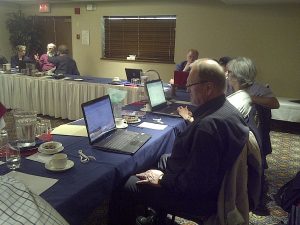 LEC clients include Real Estate Investment Trusts, government agencies, appraisal organizations and other private and public sector clients.
Education Seminar Topics
Commercial lease analysis and lease negotiations
Highest and Best Use Theory and Practice
Market Analysis
IFRS (International Financial Reporting Standards) for Real Estate Appraisers
Preparing Expert Reports for Litigation Purposes
Pro-Forma Analysis of Real Estate Projects
Property Acquisition: Identifying Opportunities and Investment Metrics
The Business of Assessment Appeals
Understanding the Commercial Real Estate Industry
Valuation of Submerged Land
Valuation of Green Buildings
Acting as a Property Agent
Seminars are a combination of lecture, local case studies, and small group assignments. Interactive quizzes are included in lectures to ensure students are absorbing key messages. Course material and references are provided for student pre-reading and post training continuing education.
Training material on other real estate industry subject areas topics can be customized and delivered.